Services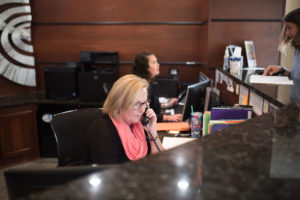 Comprehensive eye exams for children and adults, including tests for cataracts and glaucoma
Contact lens fitting, including contacts for astigmatism (toric) and bifocal contact lenses
Cataract surgery co-management
Ocular emergencies
24-hour on-call service
Specialty contact lenses, such as Corneal Refractive Therapy (CRT or Ortho-K) or Scleral Contact Lenses
No Show Policy
We understand that there are times when you must miss an appointment due to emergencies or other obligations that come up. However, when patients do not call us to cancel an appointment, it prevents us from reallocating the time to someone who is in urgent need of treatment. Therefore, not showing up to your scheduled appointment or cancelling without 24 hours notice may incur a fee. These situations will be considered on a case by case basis, but this will apply to most No Shows and Late Cancellations.
Optomap Retinal Exam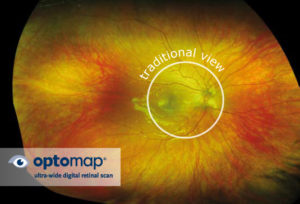 The Optomap Retinal Exam is used to get an ultra-widefield view of the retina (the back of the eye). While eye exams generally include a look at the front of the eye to evaluate health and prescription changes, a thorough screening of the retina is critical to verify that your eye is healthy. This can lead to early detection of common diseases, such as glaucoma, diabetes, macular degeneration, and even cancer. The exam is quick, painless, and may not require dilation drops.
Infant SEE Evaluations
A trip to the eye doctor is an important step in making sure your baby is learning to see properly. The InfantSEE program provides a one-time, no cost eye and vision assessment for babies 6 to 12 months old.
Sports Vision
Sports vision encompasses performance-oriented comprehensive vision care programs involving the education, evaluation, correction, protection, and enhancement of the athlete. The ultimate goal of a sports vision program is improved visual performance resulting in enhanced athletic performance.  For more information, click here.
Frames
Busby Eye Care was voted #1 in the Indianapolis area for Best Eyewear in 2017 for the 3rd year in a row by Indy's A-List voters! We are very proud to offer a diverse selection of designer frames, including our own custom line, Eyes By Busby. Eyes By Busby are able to be personalized with your name and phone number on the inside of the temple. The frames were designed in Germany and provide a very sleek look in many colors.
Our diverse frame selection includes:
Nautica, Nike, Calvin Klein, Juicy Couture, Safilo, Carrera, Max Mara, Banana Republic, Kate Spade, Polaroid, Emozioni, Rag & Bone, Prodesign, Nifties, Woow, Cinzia, Michael Ryen, Scott Harris, Cote D'Azur, db4k, Adin Thomas, INVU, MCM, Flexon, Lightec, Oakley, Tory Burch, Ray-Ban, Dolce & Gabbana, William Morris, Vera Bradley, Vanni, LA Eyeworks, Fatheadz, Draper James, Genesis, JOE, Anne Klein
Lenses
We carry a variety of lens materials, including premium Hi-Index lenses to keep even high prescription lenses thin and aesthetically pleasing. We offer many lens designs, including single vision, bifocal, progressive lenses, computer lenses for office work, and Eyezen anti-fatigue lenses for those spending lots of their day at the computer.
Premium Products
Anti-Reflective Lenses, Scratch Resistant Lenses, High Definition Progressive Lenses, Transition Lenses, and Polarized Sun Lenses. We offer the most advanced technology Progressive Lenses, Varilux X-Series Lenses.
The most effective non-glare treatment is the Crizal family of lens treatments.  We offer the very best non-glare treatments including Crizal Sapphire and Prevencia.
Contact Lenses
Many kinds of soft contact lenses including daily lenses, toric lenses for astigmatism, and multifocal contacts. We also fit specialty lenses, such as gas-permeable contact lenses, CRT lenses, Duette lenses, and Scleral contact lenses.
Care Credit

We're pleased to offer our patients the CareCredit® card, North America's leading patient payment program. CareCredit is the credit card that is exclusive for healthcare services and products. You'll get low monthly payment plans for healthcare procedures not commonly covered by insurance, including LASIK and Vision Therapy.
Fish Oil and Vitamins
We strongly recommend high quality fish oil for those suffering from dry eye disease. It is important that you get the proper dosage of DHA and EPA in your fish oil supplements to combat dry eyes. We recommend two companies who produce excellent supplements that you could benefit from.
Visit our e-store by clicking the image below to purchase the vitamins your eyes need!
Accepted insurance plans
Vision Service Plan (VSP)
EyeMed
Spectera
Medicare
Anthem Blue Cross Blue Shield
Cigna Vision
United Health Care Vision
More provided through Medical Insurance Plans
If you do not have insurance, we offer discounts through our "20/20 Discount Plan". Please call our office to get more details.